Revolutionizing Construction: The Comprehensive Impact of 360 Reality Capture in AEC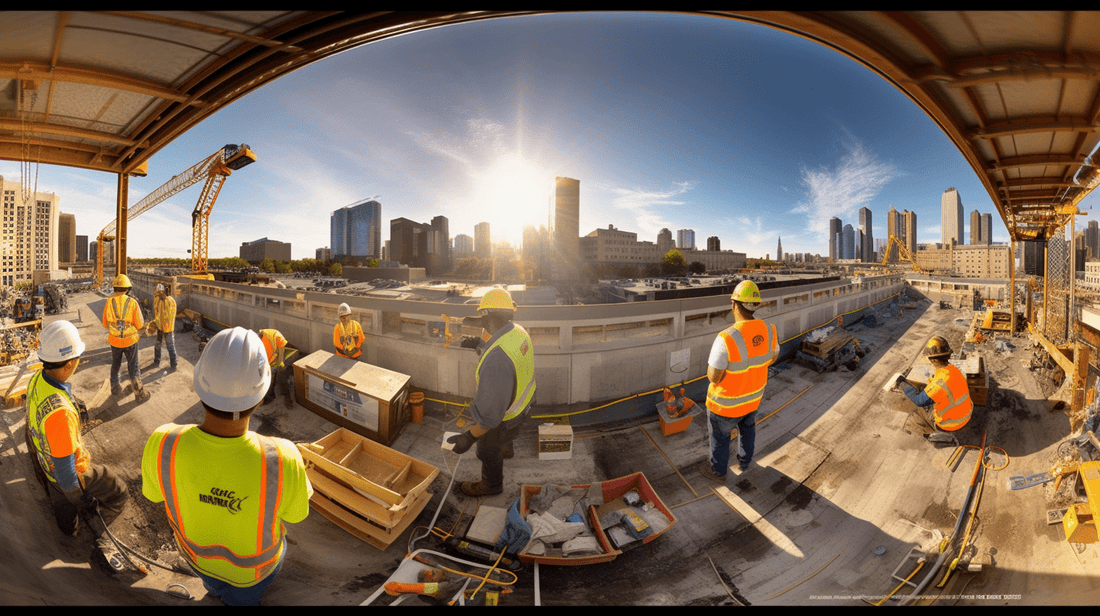 360 Reality Capture: A Paradigm Shift in the AEC Industry
The AEC industry is undergoing a radical transformation, driven by the advent of 360 reality capture technology. This innovative approach, encompassing 3D scanning, photogrammetry, LiDAR, and advanced 360 cameras like Insta360, is not just a technological leap but a complete overhaul of traditional construction processes.
In-Depth Analysis: The AEC Industry Redefined
Revolutionary Data Acquisition: 360 reality capture signifies a quantum leap from traditional data gathering methods, offering unprecedented accuracy and detail in constructing digital models of physical sites.

Project Lifecycle Efficiency: The technology significantly streamlines every phase of a project, from initial surveys to final execution, ensuring projects stay on schedule and within budget.

Sustainable Practices in Construction: By enabling more precise planning and reducing the need for physical site visits, 360 reality capture contributes to eco-friendly construction practices, reducing the industry's carbon footprint.
Detailed Benefits of 360 Reality Capture
Enhanced Design Accuracy: Digital twins created through 360 capture provide a detailed, contextual understanding of projects, leading to better-informed design decisions.
Seamless BIM Integration: Bridging raw site conditions with sophisticated BIM environments, the technology ensures comprehensive project planning and execution.
Optimized Resource Utilization: By providing detailed insights, 360 reality capture minimizes wastage of materials and human resources, contributing to cost-effective project management.
Innovative Problem-Solving: This technology allows for early detection of potential issues, enabling proactive solutions and reducing the risk of costly errors or delays.
360 Reality Capture vs. Conventional Methods: An Elaborate Comparison
| Aspect | 360 Reality Capture | Conventional Methods |
| --- | --- | --- |
| Data Accuracy | High-definition 3D models | Limited by manual measurements |
| Time Efficiency | Rapid data collection and processing | Time-intensive, prone to delays |
| Cost Effectiveness | Reduced need for multiple site visits | Higher operational costs |
| Environmental Impact | Eco-friendly, minimal carbon footprint | Greater environmental impact |
| Collaboration | Enhanced through digital twins | Limited by 2D plans and manual data |
| Flexibility and Adaptability | Agile response to project changes | Rigid, less adaptable to changes |
Exploring the Challenges and Limitations
While 360 reality capture heralds a new dawn in construction methodologies, it's essential to recognize its challenges:
High Initial Investment: The upfront cost of advanced equipment and software can be substantial, particularly for smaller firms.
Technical Expertise Required: Effective implementation demands specialized training and a deep understanding of the technology.
Environmental Constraints: Certain external factors like lighting conditions and weather can affect data accuracy.
Future Prospects: The Dawn of a New Era in AEC
The AEC industry is on the brink of a revolution, with 360 reality capture technologies paving the way for more automated and AI-driven processes. The integration of these tools with cloud-based platforms and BIM systems is expected to enhance collaboration, data accessibility, and decision-making efficiency. In this regard, solutions like OpenSpace Capture are at the forefront, offering innovative 360-degree imaging for comprehensive infrastructure projects.
Conclusion: Constructing a New Reality
The advent of 360 reality capture marks a significant milestone in the AEC industry's journey towards more efficient, precise, and sustainable construction practices. From creating digital twins for intricate renovations to monitoring intricate construction progress, this technology sets a new standard in project efficiency and accuracy. As we embrace these innovations, the industry is poised to witness a future where construction is not just about building structures but creating smarter, more sustainable environments.
Your Email Address Will Not Be Published. Required Fields Are Marked *
Subscribe to our newsletter and receive a selection of cool articles every weeks