QNAP TS-233 vs. Synology DS223: A Deep-Dive into NAS Systems & Performance Metrics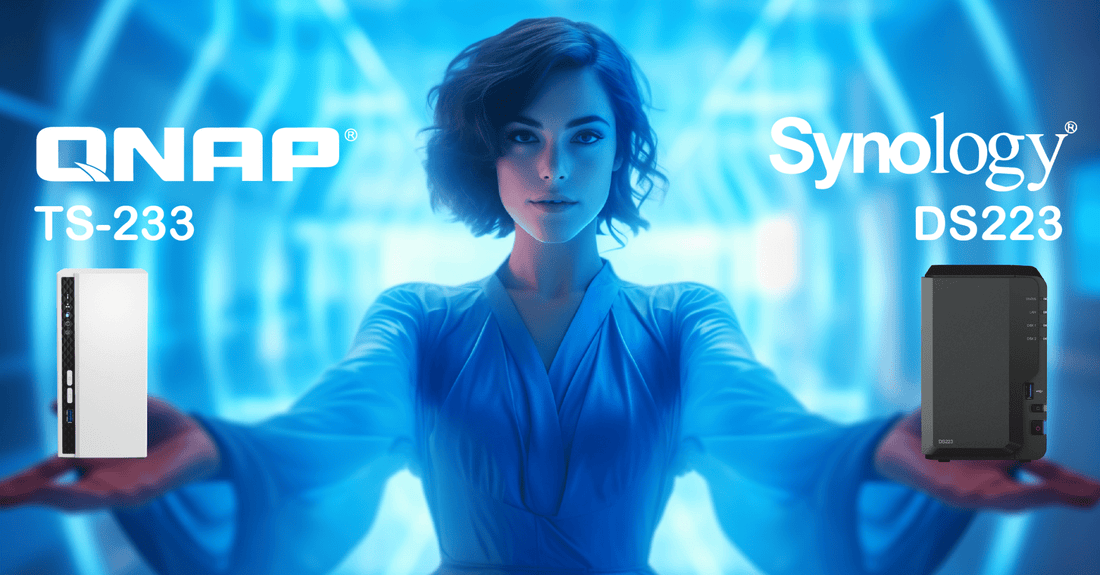 A Deep-Dive into NAS Systems & Performance Metrics
For tech enthusiasts and professionals alike, the names QNAP and Synology ring familiar. Both brands have firmly established themselves as leaders in Network Attached Storage (NAS) devices. Today, we're zooming in on two models: the TS-233 from QNAP and the DS223 from Synology.
Specifications At A Glance:
Feature
QNAP TS-233
Synology DS223
Operating System
QTS
DSM
CPU
ARM Cortex-A55
4 Cores / 4 Threads / 2.0 GHz
Realtek RTD1619B
4 Cores / 4 Threads / 1.7 GHz
NPU
✔ 
❌
System Memory
2 GB
2 GB
Drive Bay
2 x 3.5" & 2.5" SATA HDD / SSD
2 x 3.5" & 2.5" SATA HDD / SSD
LAN Port
1 x 1GbE
1 x 1GbE
USB Port
1 x 3.2 Gen 1, 2 x 2.0
3 x 3.2 Gen 1 
Maximum Scalable Storage with Expansion Units
308 TB 
❌
For those considering purchasing or learning more about these models, click here for the Synology DS223 and here for the QNAP TS-233.
The difference between the DS223 and the DS224+ often comes up. While this comparison mainly hones in on the DS223, it's essential to recognize that the DS224+ is typically an enhanced version with better features and performance metrics.
When determining the choice between QNAP and Synology, individual preferences and intended usage play a significant role. While the TS-233 boasts a standout ARM Cortex-A55 CPU and a unique Neural Processing Unit (NPU), the DS223 flexes with additional USB ports.
Yes, QNAP does offer Hybrid RAID, providing users with more flexibility in their disk management. The RAID speed and type suitable for QNAP largely depend on the configuration, with RAID 0 being fast but lacking redundancy.
In conclusion, choosing between QNAP's TS-233 and Synology's DS223 isn't a straightforward decision. Each model boasts its strengths, catering to different needs and preferences. Whether you prioritize CPU prowess, RAID configuration options, or port versatility, this comprehensive guide aims to inform your purchase decision.
Your Email Address Will Not Be Published. Required Fields Are Marked *
Subscribe to our newsletter and receive a selection of cool articles every weeks