D-Link Wins "Best of Show" at Interop Tokyo 2023 with DBG-2000 and DBG-X1000 Business Gateways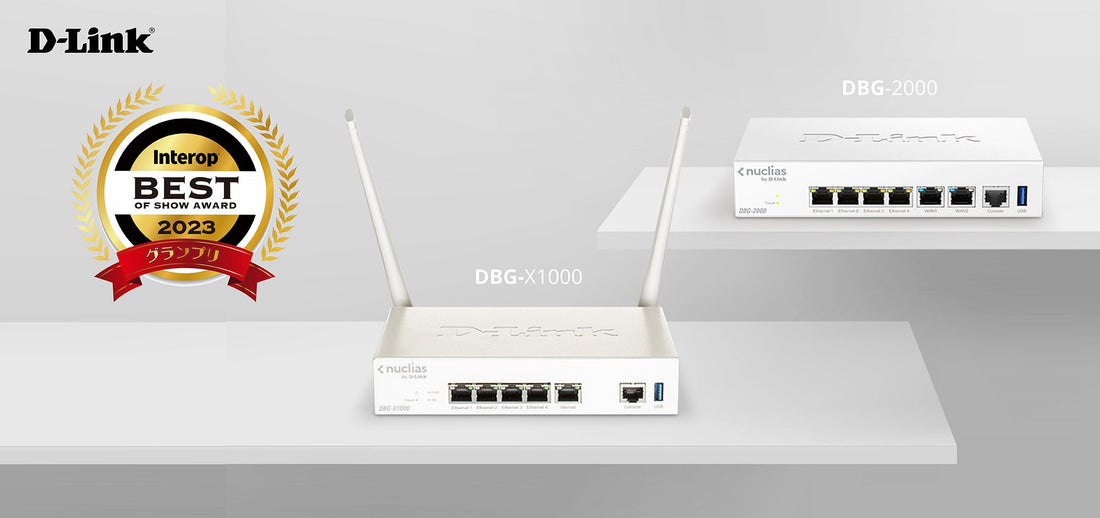 A Grand Achievement for D-Link in Network Infrastructure at the Renowned ICT Exhibition
D-Link Corporation, a renowned name in networking solutions, has proudly announced that its DBG Series clinched the esteemed "Best of Show Award" Grand Prize in the Network Infrastructure (SMB) category at Interop Tokyo 2023.
Advanced Features of the Award-Winning DBG Series
Comprehensive VPN Protocols and Intelligent User Interface
The DBG-2000 and DBG-X1000 business gateways offer an extensive range of VPN protocols and Nuclias Cloud Quick VPN. These can also act as firewalls, provide Wi-Fi user authentication, and feature zero-touch deployment for quick, convenient configuration.
A Word from D-Link Corporation's CEO
"We are honored to be recognized again by Interop Tokyo," expressed CJ Chang, CEO of D-Link Corporation, highlighting the company's dedication to innovative network management and enhanced network security.
Versatile Cloud Network Management Services
D-Link's Nuclias Cloud network management solution enables SMBs to manage their corporate network through the cloud. It offers a range of security features, such as firewalls, comprehensive VPN connectivity, malicious intrusion prevention, application control, and web content filtering.
DBG Series: A Comprehensive Networking Solution
The award-winning DBG Series includes the DBG-2000 gateway with dual-WAN capability and the DBG-X1000 gateway featuring high-performance Wi-Fi 6 connectivity. These can be centrally managed via Nuclias Cloud, providing seamless and reliable network connectivity without the need for trained technicians.
D-Link continues to be a trailblazer in the networking field, proving its dedication to delivering quality and innovative products that cater to the evolving needs of its clients in various industries.
Your Email Address Will Not Be Published. Required Fields Are Marked *
Subscribe to our newsletter and receive a selection of cool articles every weeks