The Jabra Speak2 55 Speakerphone: A Breakthrough for Distant Teams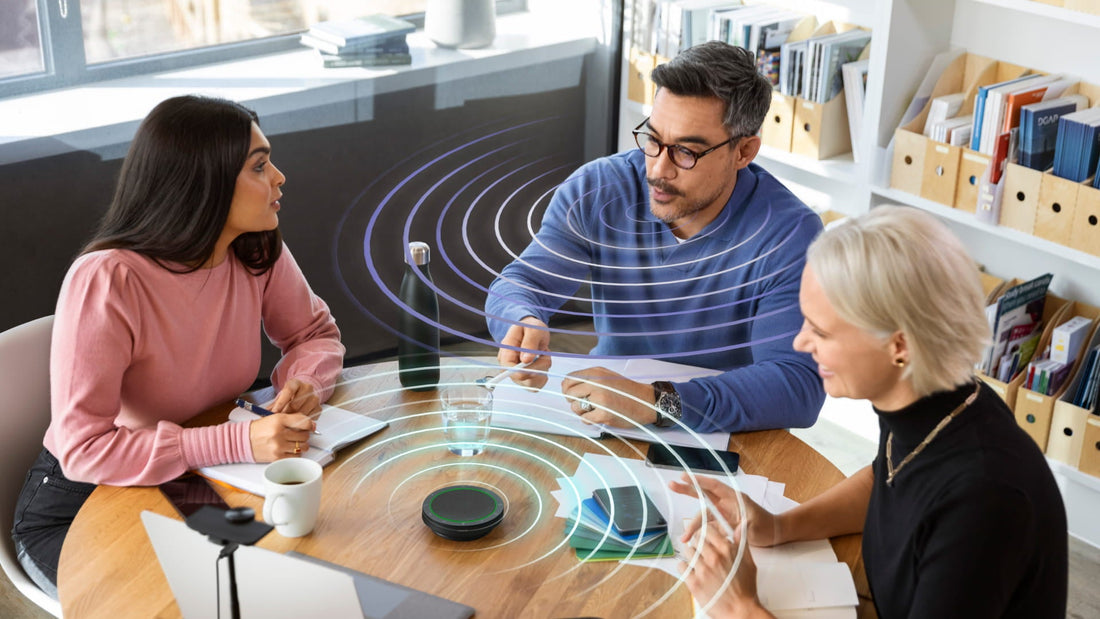 Introduction
The digital world has changed the way we communicate, but not always for the better. Sometimes, we struggle with muffled voices, dropped calls, or other glitches. The Jabra Speak2 55 speakerphone has arrived to smooth over these bumps in our digital road.
Why Online Communication Is Tricky
Online communication might seem simple, but anyone who's been in a choppy virtual meeting knows the frustrations. Jabra's Speak2 55 aims to make those frustrations a thing of the past.
Design: The Future is Here
You might think a speakerphone is just a speakerphone, but the Jabra Speak2 55 is different.
Elegance and Simplicity
With its puck-like, compact build, the Speak2 55 isn't just functional; it's stylish. Its sleek touch-sensitive controls and a glowing ring that tells you battery and volume levels add to its appeal. The built-in charging cable and USB-A to USB-C adapter are examples of thoughtful details that make it stand out.
Sound Quality: It's Like Being There
If sound were a landscape, Jabra's Speak2 55 would be a picturesque valley, clear and inviting.
A Symphony in a Speaker
Four advanced beamforming microphones cancel out background noise, providing crystal clear sound. The voice level normalization and full duplex audio functionality feel like magic, balancing voices and letting everyone talk without interruption.
Connection: Making it Easy
You don't need to be tech-savvy to connect with the Speak2 55.
Painless Pairing
Whether you're using Microsoft Teams, Google Meet, or Zoom, the Speak2 55 integrates with ease. Wired or Bluetooth, the choice is yours, and the 12-hour battery life will keep you connected. It even comes with a padded travel case for protection on the go.
Online Calls: A New Experience
We all have weekly meetings, and most are forgettable. But our test with the Speak2 55 was different.
Talking Naturally
Pairing the device was a breeze, and our voices carried naturally. We didn't need to scream or contort ourselves towards the speakerphone. It felt real, like we were all in the same room.
Conclusion: Time to Upgrade
The Jabra Speak2 55 isn't just another gadget; it's an investment in quality communication.
Seamless Connectivity on the Move
Compact, user-friendly, and with astonishing audio quality, the Speak2 55 is an appealing choice for professionals. At RM1180, it might be the best thing to add to your next meeting. Check it out here.
Your Email Address Will Not Be Published. Required Fields Are Marked *
Subscribe to our newsletter and receive a selection of cool articles every weeks