What is the Best Combination for NAS Storage: Speed/Performance vs Price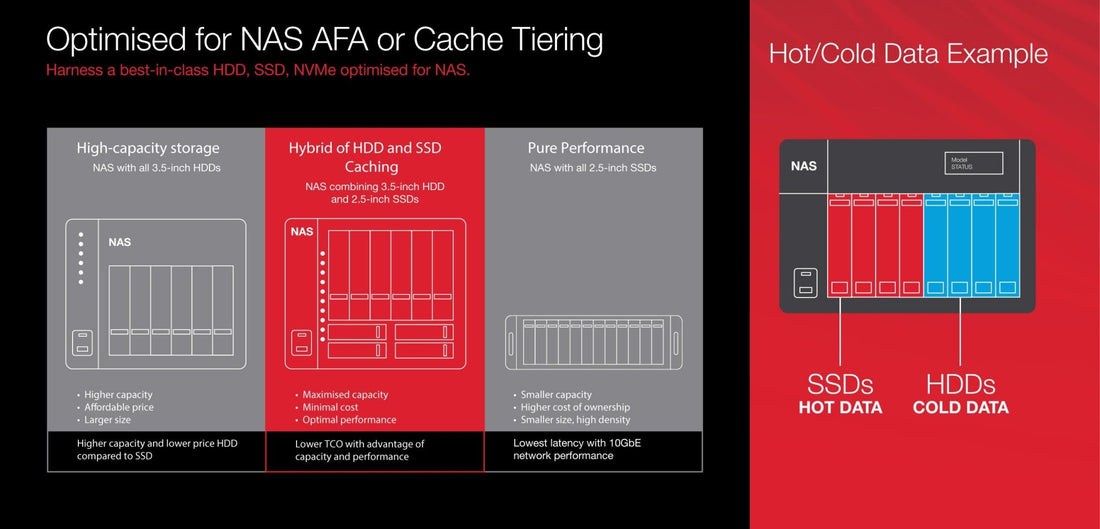 When it comes to Network Attached Storage (NAS), the options can be dizzying. With different combinations of drives and configurations, you might be wondering how to balance speed and performance against cost. In this article, we break down the best combinations based on different performance levels, considering various drive types like HDD, SSD, and NVMe.
Price Range for Different NAS Configurations
Firstly, let's establish a rough pricing outline:
Tower Entry to Mid-level NAS

2-bay: $300-$600
4-bay: $500-$1000
6-8 bay: $900-$1800

Cost Per TB

HDD: $30-$50
SSD: $80-$100
NVMe: $120-$150
Scenario Analysis
For our analysis, we'll consider a setup based on 20TB of raw storage using a 4-6 bay NAS. The usable space will be approximately 13TB-16TB with RAID configurations. Also note, caching and auto-tiering features may require additional RAM.
1. Top Performance: All NVMe Flash NAS
Cost: $3500-$4500
Pros: Exceptional speed and performance
Cons: High cost
More Info: Flash NAS Servers
2. High Performance: SSD NAS with NVMe Cache
Cost: $3000-$3500
Pros: High speed with the benefit of faster cache
Cons: Still relatively expensive
More Info: Flash NAS Servers
3. Balanced: All SSD NAS
Cost: $2500-$3000
Pros: Good speed without the cost of NVMe
Cons: May lack the highest performance
More Info: Tower NAS Servers
4. Cost-effective Performance: HDD and SSD Auto-Tiering with NVMe Cache
Cost: $2000-$2500
Pros: Balanced performance and cost
Cons: Complexity in setup
More Info: Rackmount NAS Servers
5. Budget Performance: HDD NAS with NVMe Cache
Cost: $1800-$2000
Pros: Economical with a performance boost from NVMe cache
Cons: Slower base storage
More Info: Tower NAS Servers
6. Economical Balanced: HDD with SSD Auto-Tiering
Cost: $1600-$1800
Pros: More affordable, with some performance gains
Cons: Not ideal for heavy workloads
More Info: Tower NAS Servers
7. Budget-Friendly: All HDD NAS
Cost: $1400-$1600
Pros: Most affordable
Cons: Slowest performance
More Info: Tower NAS Servers
Leading NAS Brands
For a deeper dive into NAS offerings from world-renowned brands, check out the collections for Synology, QNAP, and Asustor.
Drives to Consider
Interested in more details on different types of drives? Check out collections for Samsung, Seagate, and WD.
---
Your choice ultimately depends on your specific needs and budget. Whether you're aiming for top-tier performance or a budget-friendly solution, there's a NAS setup that's right for you.
Your Email Address Will Not Be Published. Required Fields Are Marked *
Subscribe to our newsletter and receive a selection of cool articles every weeks