Transforming Surveillance Systems: Nissan Japan's Collaboration with QNAP Surveillance NAS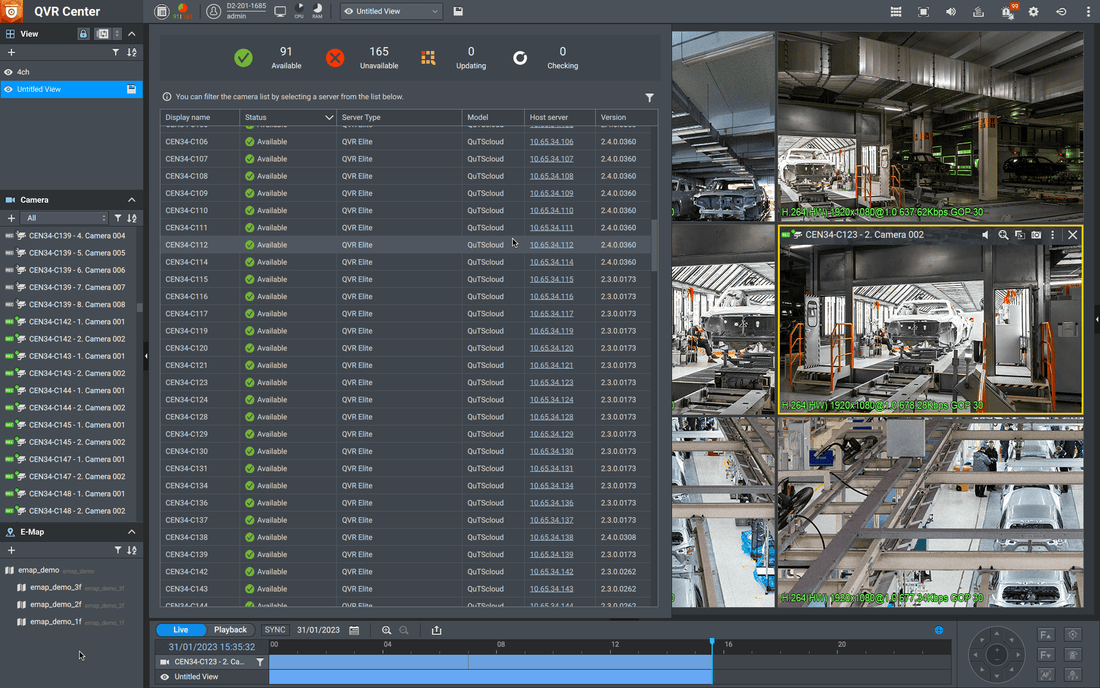 Nissan Japan, a prominent car manufacturer, sought an advanced surveillance system to support their rapid expansion and automation in production. QNAP Surveillance NAS emerged as their ideal partner, delivering remarkable results. Let's explore how this collaboration has revolutionized their surveillance system.
Meeting the Primary Considerations of Cost and Technical Services
Faced with the task of managing large-scale video surveillance across distributed areas, Nissan Japan focused on two main aspects: cost and technical services. They wanted to shift from their previous PC-based NVR to a more efficient system.
QNAP Surveillance NAS provided an all-in-one solution that integrates both surveillance software and storage hardware, slashing the cost by at least 30%. The integration allowed Nissan to remotely manage five automated factories simultaneously, housing hundreds of video channels.
Enhancing Efficiency and Crisis Management
With QVR Center CMS, Nissan managers can view and replay specific footage swiftly, significantly enhancing production crisis management and overall efficiency. The ability to centrally monitor five factories, each equipped with 60 surveillance cameras, has been invaluable.
QNAP's highly stable video fault-tolerant mechanism ensures uninterrupted video surveillance. They also offer a mesh structured central video control and backup, enabling Multi-point IT deployment with high stability and security.
Superior Flexibility and Support
The QNAP Surveillance NAS supports over 6,700 camera models and any ONVIF®-certified camera, allowing great flexibility in system planning. This adaptability helped Nissan to tailor their surveillance environment.
Moreover, QNAP's high software and hardware integration ensures smooth system maintenance and timely troubleshooting. They provide a single service window for regional customers, making support services more efficient.
Intelligent Integration and Future-proofing
QNAP offers free API resources for integrating Surveillance NAS applications with existing systems (including AIoT-related applications). This flexibility adds tremendous value to intelligent factory management, assisting Nissan in establishing intelligent access control, face recognition, and other high-security features.
QNAP Surveillance NAS also pairs with AI video analysis applications, allowing Nissan to create a comprehensive surveillance application with high efficiency.
A Testament to Modern Surveillance
QNAP's Surveillance NAS has proved to be the best in terms of overall cost, camera compatibility, deployment scale, centralized management, and video backup. Nissan Japan has expressed satisfaction with the flexibility, technology, and the many application possibilities that QNAP provided.
Overall, QNAP Surveillance NAS has assisted Nissan Japan in quickly crafting an ideal and cost-effective all-round video surveillance solution. In terms of cost, functionality, management, service, and more, it aligns perfectly with modern mainstream surveillance.
This collaboration stands as a testament to how technology and innovation can enhance security, efficiency, and overall production. The success with Nissan Japan emphasizes QNAP's capacity to tailor solutions to specific needs, making it an attractive option for enterprises aiming for top-tier surveillance systems.
Your Email Address Will Not Be Published. Required Fields Are Marked *
Subscribe to our newsletter and receive a selection of cool articles every weeks